We're pleased to announce our next cosplay project: Angela Blanc from Black Butler!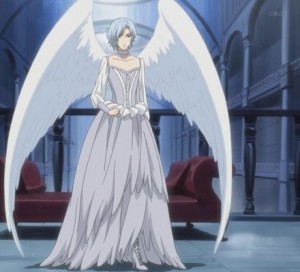 <Kermit Flail>
We've actually been working on the Angela Blanc costume for a little while, and plan to premiere the piece at Colorado's Nan Desu Kan in September. Here are some of the details: for the dress, we are making a tailored Tudor style corset to structure the top. One of our technical challenges for the dress is the texture of the skirt. Because this costume is from an Anime, the depiction of Angela's dress is very stylized, which doesn't give us specific information on what the skirt might be made out of. So, we get to have a little fun. We're experimenting with layered fabric to interpret the kind of texture that matches the look and flow of Angela's dress in the Anime.
As you can probably tell by the picture, another significant technical challenge of the Angela Blanc project will be making the wings. We've been experimenting with different techniques to get just the right structure to support the weight and wing span. At the same time, we want to keep the delicate and graceful silhouette of Angela's character.
We'll be posting more about what we learn as we work on the costume over the next few months. Stay tuned for pics, updates, tutorials and such!